Rubicon is changing the investor and start-up paradigm forever.
Designed to support the unique needs of investors and founders with data and transparency turning insights into actions.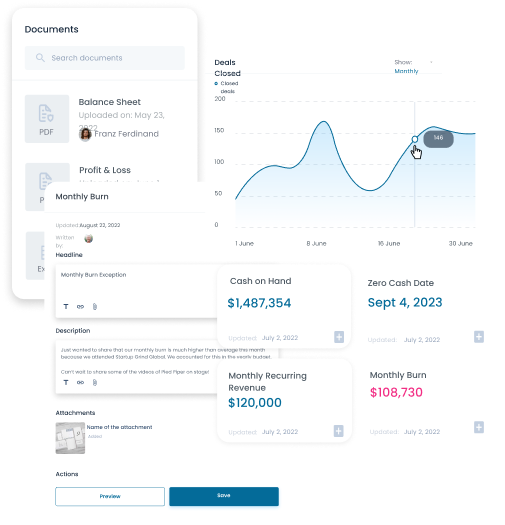 Unify Your Organization's Data
With Rubicon, you can connect all of your data in one place to simplify reporting and easily create a 360 view of your organization.
Foster Investor Engagement
Move beyond the basic housekeeping tasks with your investors. Become proactive in your partnerships to maximize your potential.
Create Consistent Communication
Communicate with investors and other stakeholders through Rubicon dashboards that make managing and sharing data straightforward.
Quarterly updates via manual reporting "like spreadsheets" just aren't working anymore.
The Rubicon app marketplace connects with powerful tools like:
The average start-up spends over 110 hours per year on investor updates that are static, not proactive...
Manual and time-consuming

Non-standardized format

Not actionable

Incomplete view of what's going on

Lack of transparency & missing info

Quarterly or sporadic and never real-time

Disconnected data
"Investor engagement has a significant impact on the innovation of a company and the likelihood of a successful exit."